Spring (2020-04)
Audio

Micca PB42X Powered Speakers ($120)
Sonos Amp (to replace NAD) ($650)
Schiit Audio Sys
Schiit Modi DAC
2x Sonos One SL

Computing

2019 27inch iMac (8core i9 + 72g RAM + AMD Vega 48 gpu)
Logitech MX keys bluetooh keyboard
Caldigit TS3+ Thunderbolt Dock
Surface Pro 3 (4core i5, 8gb RAM)
Logitech g603 wireless mouse ($76)
Raspberry Pi 3B+ canakit ($53)
Samsung 860 EVO 2tb SSD (for use with imac) ($280)
2nd gen airpods ($169)
Kindle paperwhite (give old one to K)
Ledger Nano X ($120)
Unifi UVC G3 Flex camera ($75)
iPhone 11 Pro (forest green)

Networking

Unifi USW Flex
Unifi Flex HD 802.11ac access point ($173)

Home automation

Kasa Smart Plugs x 3
Lutron Caseta Smart Bridge Pro
Lutron in-wall dimmer + pico remote

Photography

Ricoh GR3
Sony FE 35mm F1.8 prime lens
Fall (2018-09-10)
Home automation

Gave away / sold most Amazon echos
1x Google Home Max
2x Google Home Mini
2x LIFX bulbs

Home networking

Synology DS416Play NAS + 4x 4TB HDD (~$1050)
Ubiquiti UAP-AC-IW (in-wall) ($107)
Ubiquiti US-16-150W 16 port switch ($308)
Ubiquiti UAC AC Nano AP ($205)

Entertainment

Nintendo Switch + mario + zelda ($450)
JBL playlist chromecast speaker ($146)
LG C7 OLED tv ($2950)
Massdrop Sennheiser 6xx headphone ($215)
Sony WH1000MX2 bluetooth headphones ($370)

Computing

Microsoft Surface ergonomic keyboard ($140)
Whitefox keyboard ($169)
Fractal Design celsius s24 AIO water cooler unit ($118)
Topre Realforce RGB keyboard ($199)
Logitech g603 wireless mouse ($76)
Raspberry Pi 3B+ canakit ($53)
Kinesis Freestyle edge MX blue ergo keyboard ($200)

Photography

Sony A9 plus accessories ($5000)
Zeiss Batis 25/2 lens ($1170)
Peak Design slide rite strap ($50)
Winter (2017-01-01)
Home automation equipment

Lots of GE Zwave in-wall switches and dimmers
Aeon Aeotec gen5 z-wave usb adapter $45
Logitech Harmony Hub ~100
2x Amazon Echo (150 each)
2x Google Home (130 each)

Fuji X70 APS-C camera ~$750
Fuji Instax SP-2 Printer ~$170
Unifi UAC AP Pro access point ~$130
KEF Q100 bookshelf speakers (to replace Audio Engine P4) ~$300 black friday deal
Audioquest Dragonfly Black usb audio adapter
Chromecast 2, and Chromecast Audio x2
New PC build for oculus and photos (~$2K) (early 2016)

Intel Haswell-E 6core 5820K CPU
32G Kingston ValueRAM DDR4
Asus X99-A motherboard
EVGA Geforce GTX 970 GPU
Samsung 950 PRO 512GB NVMe PCIE M.2 SSD
Dell P2415Q 23.8 inch 4K monitor
Fractal Define R5 White Case
Noctua NH-U12S cooler

Oculus Rift + Touch controllers
Summer (2015-08-07)
Bought a house!
2x Unifi UAP AC access points
Sony 70-200 f/4 prime lens
Sony 28/2 prime lens
Chromecast ($25)
Fire TV Stick (free with sling.tv subscription)
Yamaha AvantGrand N2 digital hybrid piano ($8k)
Upgraded desktop to windows 10
Winter (2015-01-19)
Lots of disk shuffling.

2TB Western Digital My Passport Mac edition (WDBKKF0020BSL) for laptop
4TB Western Digital My Book Desktop edition (WDBFJK0040HBK) for backup ($115)
2TB Western Digital WD20EARX drive

Cameras

Bought (and sold) Sony A6000 ($490), Sony SEL1670Z 16-70mm f4 Carl Zeiss Lens ($750), Sony SEL55210 55-210 f4.5-6.3 ($220)
Bought Panasonic LX100 compact camera ($900)
Bought Sony A7 Mk2, Sony SEL55F18Z 55mm f/1.8 lens ($750), Sony SEL2470Z 24-70mm f/4 ($900)

Bought iPad Air (gen1) 16GB for Q's Dad.
Upgraded to iphone 6 (64GB, white/silver) at work
Winter (2013-12-22)
Reverted to Windows 7 on the desktop
Retired HTPC and donated parts. Replaced with Mac mini for full HTPC duties.
(november) purchased 13 inch macbook pro: 2560x1600 retina display, 16GB RAM, Intel core i5 2.6ghz, intel iris pro graphics with 1GB vram, 512GB pciE ssd. ($1700)
(november) Bought 32gb ipad mini retina (2nd revision) with yellow smart cover ($590)
Purchased and returned Fujifilm X-E2 digital camera
Purchased Olympus OM-D E-M1 16MP micro 4/3 camera ($1400)
Switched to 15inch retina macbook pro at work. Late 2013 haswell. 16GB RAM.
Purchased netgear r7000 802.11ac router
Fall (2012-11-03)
Upgraded desktop to Windows 8 Pro ($39)
Purchased Samsung external DVD writer ($30) to get rid of internal DVD drives
Purchased and returned Seagate 3tb external drive
Bought 2x Rosewill usb 2.0 enclosure
Bought 2tb Western Digital WD20EARX hard drive ($110)
Bought white HHKB Lite 2 ($70)
Summer (2012-08-06)
Upgraded HTPC with OWC SSD replacement and last copy of Win 7 Ultimate
Bought Apple TV ($99)
Moved mac mini to be connected to TV
Donated Qian's old thinkpad R30
Donated qian's old PC with Lian-li case and intel c2d
Bought an ipad 3 32gb Wi-fi
Spring (2012-02-18)
Bought Panasonic Leica 25mm 1.4/G lens H-X025 ($599)
Switched to 15 inch thunderbolt MBP at work plus 27 inch TB monitor
Bought Qian a 13 inch macbook air. 4gb ram. 128gb ssd. 1.7ghz core i5 dual core (~$1300)
Bought Qian a white iphone 4S 16gb ($200 + contract)
Bought 802.11n Airport express for home stereo ($99)
Winter Holidays (2011-12-28)
Returned ATEN 4-port KVM switch
Thanksgiving (2011-11-26)
Switched Thinkpad x220 at work
Purchased ATEN 4-port CS1764A DVI/USB KVM switch ($200)
Purchased Fujitsu ScanSnap S1300 document scanner ($250)
1.5 years at FB (2011-11-13)
Switched to 13 inch mbp at work
OWC SSD died, so replaced with Samsung 470 series 128gb SSD ($200)
Got a fitbit for birthday
Bought TP-Link TL_WN822N Wireless N USB Adapter ($25)
Bought Sennheiser mx580 earbuds ($29)
Bought Airport extreme 5th gen ($174)
Sold Nikon D70 body + kit lens
Moved to San Carlos, consolidated home desk machines to two machines hooked up to same monitor/keyboard.
Almost one year at FB (2011-04-03)
Switched to Thinkpad X201 at work.
Bought Panasonic GH2 micro-4/3 camera. With 20mm F1.7 fixed lens.
After 6 months at FB (2010-11-29)
New PC build: Antec NSK 3480 mATX case, with 380watt earthwatts PSU. Intel Core i7 870 2.93 ghz quad core CPU with HT. 4x4GB Kingston value ram DDR3 1333 (KVR1333D3N9/4G). Intel DP55WB matx mobo (no frills). EVGA 01G-P3-1370-TR Nvidia geforce gtx 460 GPU. OWC mercury extreme pro SSD (SF-1200 series) 120GB. (~$1300)
Switched back to mbp at work.
Fall (2010-09-14)
Started FB with a MBP, but exchanged for a Lenovo T410s.
Bought Transcend memory card reader for SDHC support
Bought cables-to-go 2 port USB hardware switch, as poor-man's KVM
Spring (2010-05-10)
Moved desktop PC to living room to become media PC
Started at facebook. Returned Lenovo T400 and X60 to vmw.
Got new iphone from fb, gave old one to qian
New Year (2010-01-07)
Bought Rocstor 850 External 1TB FW800 hard drive for mac mini
Bought Panasonic LX3 camera for qian
Sold magic mouse, bought Logitech M500 mouse ($35)
Bought Ultimate Ears Triple.fi 10 earbuds ($99 deal on amazon)
Bought Motorola SB6120 docsis 3.0 cable modem ($85)
Bought Creative Inspire T10 speakers for qian ($50)
After 5 years at vmware and Kaio's birthday (2009-11-02)
Bought a new Mac Mini (c2d 2.53ghz, 4gb ddr3 pc8500, 320gb 5400rpm sata, superdrive, magic mouse) (~$810 inc tax, with friend's discount hookup)
Sold pair of Yamaha msp5 speakers for ($325 CL)
Bought pair of Audioengine A4 passive desktop speakers ($249)
Fall 2009 (2009-10-02)
Sold Topre Realforce 101 ($130 on ebay)
Sold Beringer 6-channel mixer ($30 on CL)
Bought Lenovo Ultranav desktop keyboard SK-8855 ($50)
Drive in external owc mercury elite pro external enclosure died
Fall 2009 (2009-08-31)
Bought an iPhone 3GS (16GB) $199
Bought a FILCO Majestouch FKBN87M/EB tenkey-less cherry brown n-key rollover kb. $135
Tochan got me a NAD amp for my birthday
Bought Microsoft Comfort Curve Keyboard 2000 $20
Sold Apple Wireless bluetooth keyboard for $30
Donated IBM old buckling spring keyboard (trackpoint 2), 80GB Seagate, 80GB Samsung, 100GB Western Digital hard drives, Samsung CDROM, Hitachi DVDROM, Pioneer DVD-RW, External PATA hard drive enclosure (USB)
@Home: Vista X64, intel mac mini (leopard), XP on Qian's computer. @Work: Ubuntu 9.04 on desktop (dual boot with Win7), 8.04 on build machine. Win7 on T400. Win7RC on X60.
Beginning of 2009 (2009-01-02)
Bought Nikon 50mm f/1.8D AF prime lens (~$100)
Just after 4 years @ VMware and Kaio's birthday (2008-11-14)
Bought a HP LP 2475w 24 inch LCD monitor and then returned it due to color mura issues.
Bought an NEC 2490WUXi 24 inch LCD monitor ($1000), with calibration software ($100)
Bought a X-Rite i1 display 2 calibrator ($200).. note to self: buy the bundle next time.
Bought some cheap clamped lamps from Ikea to act as bias lights for when the room is dark ($10 x 2)
Bought a Flip Mino HD handheld video camera ($200)
Bought a Logitech Quickam Pro 9000 USB webcam ($75)
Got a copy of Vista x64 Ultimate edition through Joyce ($60).. and liked it!
Got a Western Digital VelociRaptor WD1500HLFS 150GB 10krpm SATA drive ($193.00)
Ended that other blog (End of October)
Almost 4 years at VMware (2008-09-06)
Bought Panasonic TH-50PZ85U 50 inch 1080P Plasma TV ($2020)
Built computer for Qian: 2.0Ghz Pentium E2180 (allendale) dual core, 2GB PC6400 from my desktop, 250GB Seagate 7200.10, Intel DG35EC mATX motherboard, Samsung DVD-burner, Lian-Li aluminum case from old pc. Planal PL201M from my desktop. ($280 in new purchases) XP 32bit.
Bought 4 gig of PC6400 RAM (A-Data) ($80) for the desktop (now 6GB total). Came with free 2GB USB drive.
Sold AOpen AX4g pro, 1.8 ghz P4 1.8, 1GB memory ($35)
Sold Belkin Ergoboard USB keyboard ($10)
Started that other blog (May)
Just realized that I can get most of this info just by looking at my newegg order history :-P
Still running XP 32bit on desktop (looking for copy of Vista x64). Installed Vista x86 on Thinkpad x60 from work. @Work: OpenSuse 11 (after a brief wiff of Gentoo, after a while with Ubuntu 8.04), Ubuntu 7.04, Windows Server 2008 (as a desktop)
(2008-01-27)
Returned Dell 30inch LCD 3007WFP-HC
Received Topre Realforce 101 as a gift ($170)
A little over 3 years at VMware (2007-12-31)
Bought a MS Natural Keyboard Elite for home as well. ($20)
Purchased a Nikon 18-200mm DX AF-S VR lens (88000 yen)
Purchased a Dell 30inch LCD 3007WFP-HC ($1385 incl tax)
Switched back to 32bix XP as a primary home OS (back from x64 XP)
2007-09-20
Sold charcoal HHK pro 2 keyboard on ebay for $200. Just wasn't suited for home use.
Qian got me a Wii for my birthday
Friends got me a Blackberry Curve 8300 for my birthday
Return of my old favorite: MS Natural Keyboard Elite (with USB this time) for work. ($20)
(2007-07-27)
bought NEC 2070NX 20 inch monitor $350
bought logitech wireless notebook mouse $40
bought D-link 323 NAS with 2 x 500GB Samsung Drives in RAID1 config $470
bought Rosewill 5-port gigabit switch ($40)
bought OPPO 970HD upscaling dvd player $150
bought 2x happy hacker pro keyboard $270 each (one white, one charcoal gray)
bought extra 2GB memory PC6400 memory for desktop, bringing to 4GB total (required XP x64 edition)
bought canon pixma iP6700D inkjet photo printer
started Ubuntu Tips
Work bought me a Thinkpad X60
2 years at VMware (2006-10-06)
bought belkin ergoboard pro usb $35
bought kensington slimtype keyboard for mac $40
bought microsoft wireless optical mouse 5000 $30
bought linksys WRT54GL wireless router and loaded dd-wrt third party firmware. $40
sold powerbook plus macally icekey keyboard and cases for $1200
bought new desktop: antec p180 case, seasonic 380w silent power supply, intel core 2 duo e6600 2.4ghz, 2gb pc800 geil 1.8v ddr2 ram, 2 x 320gb seagate sata-ii hard drive, nec 16x dual layer dvd burner, gigabyte geforce 7600gt silentpipe-ii video card, asus p5b deluxe/wi-fi motherboard. cost ~$1300
(2006-04-07)
sold the datadesk smartboard on craigslist $90
(2006-03-26)
bought macally icekey usb keyboard $40
bought jvc 27inch tv for $100 on craigslist
bought ultimate ears super.fi 5pro in-ear monitors
bought an ipod nano for qian
bought a macally icekey keyboard
bought a datadesktech smartboard
sold the sony picturebook on craigslist
sold most of the parts from the old amd box on craigslist. gave plextor cd burner to office mate at work.
Gave Linksys WRT54GS router to friend.
(2005-11-20)
bought apple bluetooth wireless keyboard.
After one year at VMware (2005-08-08)
bought powerbook 15inch, 1.67mhz g4, 512m ram upgraded to 1.5g. 80 gig. superdrive. 802.11g. bluetooth. os x tiger.
bought blue ipod mini 6g.
bought apple airport express.
scrapped and sold most of matx system. moved webserver into a vm on desktop in workstation 5.0.
bought extra 512mb for desktop. also pioneer dual layer 16x dvd burner drive.
bought nikon d70 digital slr with 18-70mm kit lens.
bought sony dsc-p150 compact 7mp digital camera.
bought a ps/2 from japan.
bought a linksys wrt54gs wireless router. doesn't work too well.
gave samsung 170mp to mom.
bought japanese thin form factor playstation 2.
bought owc mercury elite pro 250gb external firewire800/usb2 hdd.
bought logitech mx1000 laser cordless mouse.
bought pioneer 16x dual layer dvd+-r/rw internal drive.
sold zaurus and accessories for $500
sold canon powershot g3
bought beyerdynamic DT250 headphones ($150)
(Spring 2004)
bought matx system as devel box for kde work. shuttle matx case, asrock sis motherboard. amd athlonxp 2500+. 512mb ram. rest scrapped parts from other system. cost ~$600 cdn
bought a sharp zaurus sl-c860 in japan
UBC second year (2003-11-20)
sent z505 home
standard battery on c1vrx died, so using double cap. battery exclusively. slowly but surely racking up cycles.
bought planar pl201m 20inch uxga lcd with 25ms response 500:1 contrast ratio, using with samsung under xinerama on gentoo
converted webserver to a router, installed this wiki as well as tdiary and other stuff
bought 80gig seagate 7200.7 as a backup drive. had to return my wester digital 100gb once. thank goodness for the 3 year warranty. need to come up with strategy for buying disks in the future.
put atlas 10k back into desktop.
bought canon powershot g3
ubc first year (2003-03-13)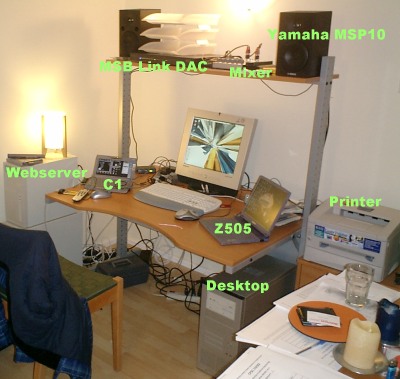 a nice ikea desk!
new desktop: p4 1.8 ghz. aopen ax4g pro. 512mb ddr 333 mhz. 100gb western digital 7200rpm 8mb cache drive. Lian-li aluminum case. dvdrom from before. cd burner from before. Geforce4 Ti 4200 graphics card. Linksys Wireless Desktop PCI network adapter. Cheap logitech keyboard. It has a small windows partition, then the rest of it is Gentoo Linux.
Brother HL-1440 Laser printer. Prints only one side, but its pretty fast and was under 300 bucks US.
new camera: Casio Exilim S1. 1280x960. Tiny! But they're already up to an S3 with 3 megapixels...
Still have both picturebook and z505, as well as a webserver box (now running on the p3 850) and a case with an abit BP6 in it among other things
A 3com Officeconnect wireless router. This doesn't work as well as other products I've bought from 3com. It keeps losing its DHCP lease. Also got a cheap small AOpen hub.
Not exactly computer stuff:

MSB LINK DAC
A pair of Yamaha MSP-10 studio monitors
Beringer Eurorack MX 602A mixer
A Casio TV-970B portable TV (Thanks Qian's parents!)
New stand for my keyboard: Ultimate IQ-2000 double locking
Princeton Senior Year (2002-01-26)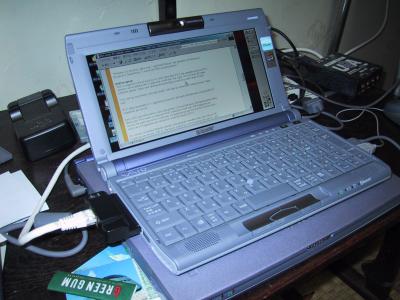 "chunky" and "pocky" no longer exist. CHUNKY's case converted to be the main desktop, with the p3 850 and 384mb RAM, and renamed KURIMAN. The same machine also has the 40gb seagate, the 40gb samsung, the radeon, and runs Kondara Linux 2.1 RC2.
POCKY's case was decomissioned, so was the BP6 and a stick of 128 PC100, and its cdrom.
Instead of a deadicated firewall box, bought a linksys router + wireless AP box.
Bought a Vaio C1 VRX/K over the summer. The hard drive started to go bonkers (perhaps because of the so called "sony timer", though none of the other stuff I've bought from the has gone bad), so replaced it with a toshiba 40gb model. Also have a Avaya wireless silver card for it. Runs Win2K only. This machine is aptly named VAIOMANJUU.
Princeton End of Junior Summer (2001-07-03)
"chunky" is sitting a friends house for the summer
"pocky" is sitting in a box for the summer. The 10k rpm drive + SCSI card that it was using is now in my dad's computer. (too small/hot/loud)
"firewall" has been decommissioned and sent home.
"vaio" is now running FreeBSD 4.3-RELEASE as well as Win2K. Slackware 8 just came out but I probably won't touch that until the fall.
Plans for the fall: "pocky" will get a SB Live that I lent to my dad. "pocky" will also probably get a 40 gig or 80 gig 7200 rpm drive.. considering -> Seagate Barracuda IV. "chunky" will probably get converted to Slackware 8, unless I need a firewall again.
Princeton End of Junior Year (2001-04-25)
"chunky" is no longer overclocked now takes on the role of firewall. Front fans removed to kill noise. Runs FreeBSD 4.3-RELEASE
"pocky" runs 100% FreeBSD
"firewall" is probably going to be decomissioned and scrapped for parts, or will turn into an mp3 appliance
"pocky" now runs a radeon 64MB DDR. Bought for $180 fast but unfortunately driver support could be better
I am now a happy hacking owner of a happy hacking keyboard lite. The japanese keyboard layout got too annoying. :-P
Princeton Junior Year (2001-01-25)
Boxen:

"chunky": Dual Celeron 366mhz OC'ed to 550mhz. Abit BP6 Motherboard. 128meg RAM. (had to split the RAM with the other box) Diamond Viper 550 AGP (Nvidia TNT). Linksys NIC. Maxtor 13 gig 7.2k rpm HDD. Plextor 12/10/32A CDRW drive. 2 mod'ed golden orbs cool the celerons. Case is cooled by an Enermax switching 330v supply, a front case fan, and a PC Power and cooling silencer case fan mounted on one of the side blow holes. OS: Slackware Linux 7.1
"pocky": Pentium III 850 mhz. 128meg PC100. Onboard Video (intel 815). Onboard Audio. Onboard Lan. Quantum 9gig Atlast 10k rpm Ultra160 SCSI. Adaptec 3940 UW Dual Channel SCSI controller. OS: Windows 2000 Professional
"firewall": Plain old pentium 233 mhz. Atrend ATC-5000 motherboard (Intel TX). 64 Meg EDO. 3com NIC. Intel NIC. PCI Usb card (cuz no one sells the USB connectors for this motherboard) OS: FreeBSD 4.1
"vaio": Sony PCGA-Z505R Superslim laptop. P2 366. 192MB PC100. 12 gig (original 6gig). Built-in LAN. External CD-ROM (PCGA-CD51) 12.1 inch TFT. Standard Battery (doesn't last at all but bigger battery = 300$) OS: Dual boot configuration between NetBSD 1.5 and Windows 2000

Peripheri (?):

Technics P-30 Digital Piano
Yamaha Amp
Iogear USB KVM Switch (4 machines)
Samsung 170mp flatpanel monitor with integrated TV Tuner
Canon Powershot S100 Digital Elph (with 32mb mem card)
Sony MZ-R900 Portable MD Recorder
Logitech Optical Mouse (the smaller one)
Justy UKB-109 Japanese layout USB keyboard
2 Linksys 10/100 Hubs.
Egosys Waveterminal U2A (USB to SPDIF)

Planned Purchases:

Geforce2
3ware Escalade 6200 IDE-RAID controller
2 5400 rpm IDE 40gig drives.
Speakers for that Yamaha amp.
Some kind of groovebox.

Stuff that I still own in some way, but don't use. (and the excuse I had for buying something newer, if applicable)

Sony JB920 MD deck. (took up too much space in my dorm room. Doesn't support LP recording. Bitch to bring back and forth from school)
Sony MZ-E70 Portable MD player (no point having a player if u cant record)
Journada 680 (took from my dad cuz he didn't use it. He got it as some gift from work. Useless)
IBM 7200 RPM SCSI 4.5 gig Ultrastar... TOO LOUD!
6gig laptop hard drive that was originally in the vaio (too lazy to buy the IDE adapter)
Update (2000-06-14)
Gave the Samsung 531TFT to my sister for her birthday
Laptop now runs Win2K
no more overclocking for now.. sold the fans cuz they were way to loud. thinking about a couple golden orbs tho.
Update (2000-04-01)
CD-ROM unit: PCGA CDA-51 for Sony VAIO
USB CD-RW: Sony Spressa Plus - 6x4x4x (R, W, RW)
Another old computer

-P5 233 MMX, 64 megs EDO RAM
-Linksys NIC, 3com NIC, Matrox Mystique VGA
-Freebsd 3.4 running natd among other things

sold hoontech 4dwave-nx
Princeton Sophomore Year 1999-2000
Desktop

Dual Celeron 366 mhz CPUs overclocked to 550 mhz (100 mhz FSB)
Abit BP6 Motherboard
256 MB PC100 SDRAM
Hoontech 4DWAVE-NX PCI Soundcard (based on Trident 4DWave)
Diamond Viper 550 AGP
3com Fast Ethernet 3c905B-TXNM
Samsung SyncMaster 531 TFT Flatpanel Analog LCD Monitor
Microsoft Natural Keyboard
Hitach GD-2000 DVD-ROM
Adaptec 3940UW, dual channel UW SCSI adapter
Quantum Atlas IV 10,000 RPM 9gig
IBM Ultrastar something 4.5gig 7200 RPM
Western Digital 8 gig UDMA33 5400 RPM
Operating System: Turbo Linux 3.6 (English)

Laptop (Sony Vaio PCG-Z505R)

Mobile Pentium II 366 Mhz
64MB SDRAM
6.4 gig HDD
12.1 Active Matrix TFT (1024x768)
Princeton Freshman Year 1998-1999
Current System:

Intel Pentium II @ 350 mhz
Abit BH6 Motherboard
128 MB PC100 RAM (I don't know the brand, but it works)
Soundblaster Live! (Great for Windows. Currently Useless under Linux)
Diamond Viper 550 (RIVA TNT)
SMC network card (cheap stuff that the school sold me.. shoulda bought 3com)
Samsung SyncMaster 531 TFT Flatpanel Analog LCD Monitor (Awesome! Spendy!)
Microsoft Natural Keyboard (Elite)
Plextor 4x/2x CD-R w/ internal SCSI card (Advansys generic)
Sony 16x CD-ROM (old but works well)
Western Digital 8 gig, Quantium 4 gig (both UDMA33)
Operating Systems: Windows NT 4.0 SP4 and Linux (RedHat 5.2, Kernel 2.2.x)

Peripherals: (in one way or another)

Sony JB-920 (gold) Minidisc Deck
Sony MZ-EP10 Portable Minidisc Player
Technics p-30 Digital Piano
Canon Powershot A5 Digital Camera

You may wonder how I ever get any work done with all this stuff. Quite frankly I never get anything done as long as I'm in Windows. As soon as a I boot into Linux, half of my peripherals are unuseable, allowing me to do something productive.
Future Upgrades:

Hard Drive Space! (always need more)
RAM (damn NT)
Video Card (current one has some ghosting problems)
New Mouse (this one's getting a bit old)
Processor (could always go PIII with this motherboard)
CD-R (2x write is a little slow these days)
BeOS (if only i had the right hardware....)

Total Cost of Current Setup (incl. peripherals): approx $4100